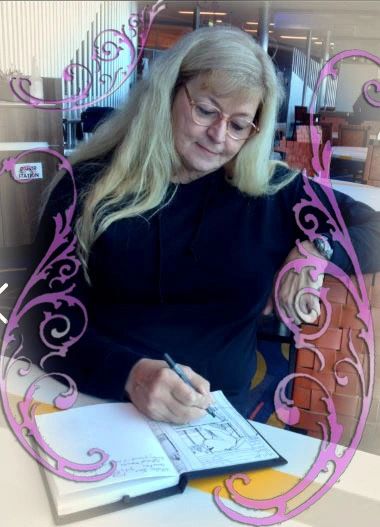 Neecee Blackwell loves to sketch, draw and paint, using these skills in a variety of mediums and on many projects. She is thrilled to be a successful, working artist.
Her business, Crooked Tree Graphics, was established in January 1991, named after a particularly gnarly tree, at her studio. Neecee has become a successful freelance artist, using this company as an "umbrella" to produce many art pieces and make a living at what she enjoys most, being an artist.
As an entrepreneur, her business has many facets: Drawing and Painting Fine Art, Mural Painting, Professional Face Painting and she is a Professional Henna Body Art. She takes her art on the road and travels a five state area to go to fairs, festivals, art shows and comic cons to sell her artworks

Please see the galleries for images of her work.

Neecee is one of the very first certified watercolor painting teachers for classes on Carnival Cruise Lines! Tough job, but someone's gotta do it! She also teaches drawing classes called "How to See Like an Artist" for children and adult art newbies.

If you have an idea or project in mind that you would like created, give her a call to discuss it or call with questions or for quotes and information. 318-455-7845.


Serving the Ark-La-Tex-Miss area with pride!


We appreciate your business!